Sverige!! (Svenska/English)
Publiserat: August 11, 2011 | Taggar: None
In English down below!
Anders Værnéus bloggar:
Den 6 augusti var en otrolig dag. Mitt under en fantastisk bröllopsmiddag på Skärgårdskrogen strax utanför Stockholm, så får jag ett SMS: "Nu är det klart! Sugen på 100 knop? :-)))))"
När avsändaren var Sofi Johansson från varvet Johansson & Son i Holmsund utanför Umeå, så förstod jag: Sverige skulle bli verklighet. En dröm blir sann.
Att få chansen att bygga Sverige är inte bara ett kul projekt. Det handlar om så mycket mer. Båten som ritades av mästerkonstruktören Ruben Östlund 1929 på beställning av några av vårt lands mest förmögna motorbåtsivrare. Båten som ställdes ut i ritningsform på den andra båtmässan i Liljewalchs konsthallar på Djurgården 1929. Båten som blev det årets stora snackis men som sedan aldrig blev byggd. Nu ska den alltså äntligen bli verklighet.
Läser du bloggen här så kommer du vara fullständigt uppdaterad på hur detta fantastiska projekt går framåt. Jag kommer att berätta alla (nästan) hemligheter och framsteg som vi gör. Och när sedan det fysiska bygget av båten går igång så kommer Sofi själv att rapportera från verkstan. Så välkommen ombord på Sverige - mot 100 knop!
Varvet bloggar:
Vi samordnar ritningar med backslag, backslag med motorer, motorer med propellrar! Det krävs det bästa av det bästa för att påbörja detta bygge. Motorerna anländer inom snar framtid. 2 st Rolls Royce V12 Meteor på 27L/st!!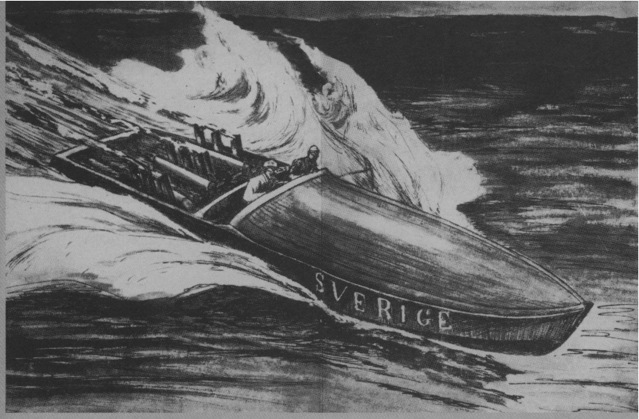 Anders Værnéus post:
the 6 of August was an incredible day. In the midst of a spectacular wedding reception at a restaurant just outside Stockholm, I get a text message: "It's on! Fancy 100 knots? :-)))))"
When the sender was Sofi Johansson from Johansson & Son Shipyard in Holmsund outside Umeå, I understood: "Sverige" would become a reality. A dream has come true.
Getting the chance to build "Sverige" is not only a fun project. It's about so much more. The boat was designed by master designer Ruben Östlund in 1929 on a request from some of our country's most affluent motorboat enthusiasts. The boat, which was shown in drawings on the 2nd boat show in Liljewalchs Art Galleries on Djurgården 1929. The boat, which became the year's major gossip but then never got built. Now, it would finally be reallity
If you read the blog here, you will be fully updated on how this amazing project go forward. I will tell you all (almost) secrets and progress we make. And when the physical construction of the boat starts Sofi herself will be reporting from the workshop.
So welcome aboard on Sverige - towards 100 knots!
The shipyard post:

We coordinate drawings with reverse gear, reverse gear with engines, engines with propellers! It takes the best of the best to start this building project. The engines arrive in the near future. 2 x Rolls Royce Meteor V12 at 27L per engine!!