SVERIGE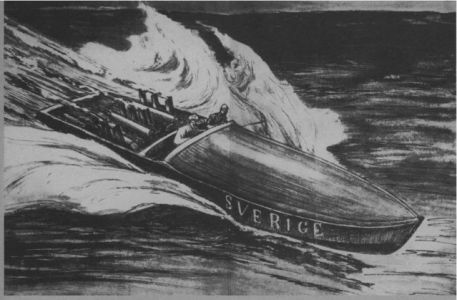 "The year is 1930. The place is Detroit yacht Club in USA. It's all about Harmsworth Trophy – the motor boatings counterpart to America's Cup. Gar Wood completes his Miss America IX and is getting ready. The two Swedes standing on the dock in white overalls are also ready. They put on their flight hoods and motor goggles and enters the boat. "Sveriges" two V12-engines roar up with a thunderous rumble".
The words are Gits Olssons, a very well known swedish journalist, and the scenario could have been a reality. A few members of the Swedish Royal Motorboat Club had real plans to challenge the "Silver Fox" Gar Wood about the absolute speed record at sea. Even then it was understood; the value of hosting the world's fastest boat. However, the plans unfortunately stayed just plans at that time. But Ruben Östlund's drawings remain. And the precise architectural description is preserved. So the possibility still exists today.?
100 knots was an almost unattainable goal, already at that time. Today it is still an incredible speed - something that few people will be fortunate to experience. And especially not in a boat made of mahogany!
But now it becomes reality!
In early August 2011 the contract was signed for the making of "Sverige". The construction of one of the most spectacular wooden boats could begin. The clients, two thrill-seeking men from Stockholm wants to realize the old dream of beating 100 knots with a Swedish-built boat. The boat will be built here in Holmsund, we have good experience of rapid wooden boats by having built the replica of Ivar Kreuger´s SVALAN and restored Max Gumpels lovely racer LAILA. The project is led by Anders Båthus with the goal of creating a classic record breaking boat completely without compromise. Welcome aboard on this year's most interesting project!??
You are welcome to join the project in the blog! Anders Værnéus at Anders Båthus writes about the history and other interesting facts. We at the shipyard write about the progress and construction inside the shop.
Quick links to blog posts about Sverige
Sverige!! (Svenska/English) 2011-08-11
SVERIGE V12 x 3 2011-09-01
SVERIGE! 2011-10-18
SVERIGE! 2011-10-21
Uppochner / Upside down 2011-10-27
Stringers 2011-10-28
Botten / Bottom 2011-11-08
Fortsättning botten / Continuing bottom 2011-11-10
Friday! 2011-11-18
Vänd! / Turned! 2011-11-23
Hull & Twin Disc arrival! 2011-11-28
Basa / Steamheat 2011-11-29
Friday again! 2011-12-02
Snart klart skrov / Hull almost ready 2011-12-05
Proppat / Plugged 2011-12-09
Lucia! 2011-12-13
Slipat! / Sanded! 2011-12-14
Avgas / Exhaust 2011-12-15
Betsad / Stained 2011-12-20
Epifanes 2011-12-22
Däcksbalkar / Deck beams 2011-12-29
Däck / Deck 2012-01-02
Kopplingsadapter / "Connection adapter" 2012-01-03
Have a nice weekend! 2012-01-05
Transmission 2012-01-10
To all V12 geeks! 2012-01-11
Close-ups, V12 2012-01-11
Skarndäck / Covering board 2012-01-12
Friday the 13th! 2012-01-13
Sarg / Frame 2012-01-16
Instrument panel and bollards 2012-01-17
Deck and instrument panel 2012-01-17
Däcksläggning / Laying the deck 2012-01-18
Update on deck! 2012-01-18
2nd update on deck! 2012-01-19
Nåt 2012-01-19
Deck and valve cover 2012-01-20
BIG V12 update! 2012-01-23
V12 sound! 2012-01-23
Midship deck beam! 2012-01-24
Engine beds and steam-heat 2012-01-24
Deck-update #3 2012-01-25
Still Wednesday! 2012-01-25
Support stands / Stödbockar 2012-01-26
Bets / Stain 2012-01-27
Todays newspaper! 2012-01-27
Friday – I'm in love… 2012-01-27
Mixed update! 2012-01-30
Engine-fit and seat! 2012-01-31
First coat! 2012-02-01
2nd coat, waterline and engine beds! 2012-02-02
Rudder and engine! 2012-02-03
Oil tanks and engine fit! 2012-02-06
Lost count / Tappat räkningen 2012-02-07
Wednesday morning 2012-02-08
Fuel tank, footrest, trailer... 2012-02-09
Before the bottom paint... 2012-02-10
S-1 SVERIGE 2012-02-13
Valentine's Day 2012-02-14
Spraycoated hull sides! 2012-02-15
Black bottom paint! 2012-02-16
Nice ass! 2012-02-17
Spraycoated deck! 2012-02-20
Stockholm Int. Fairs in 9 days! 2012-02-21
Equipped for summer nights in the archipelago 2012-02-22
Trailer! 2012-02-22
Trailer and cover 2012-02-23
Last day before the show! 2012-02-24
2 days to the show! 2012-02-28
The show! 2012-03-05
Back to work! 2012-03-12
S-1 SVERIGE 2012-03-15
Compressors! 2012-03-19
Safety and function! 2012-03-21
Winter? Spring? 2012-04-02
Propellers SVERIGE 2012-04-10
Engine start approaching... 2012-04-13